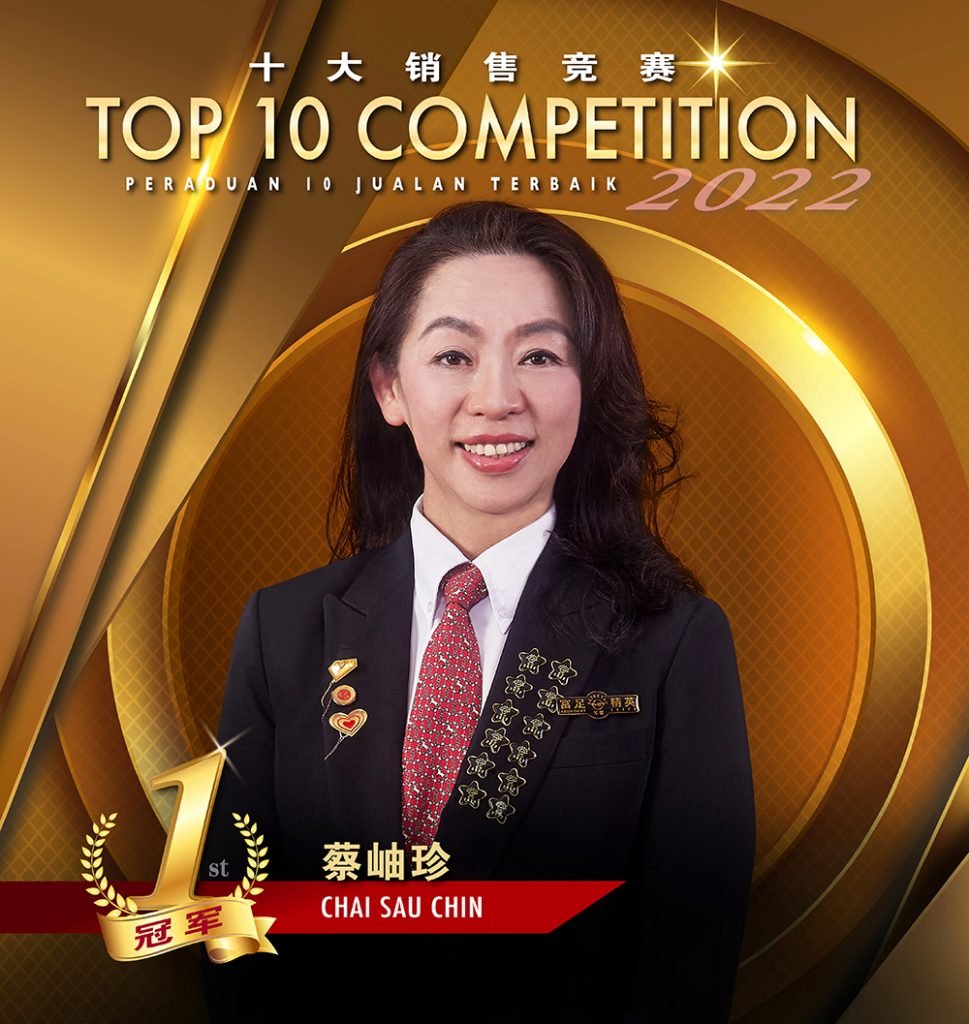 Diamond Crown Manager Chai Sau Chin
"It's not a matter of can I, but do I want to" is the motto of Sau Chin. Ever since she started Seiketsu's business, her name has appeared in "Top 10" almost every year, and always in the top 5, last year she has managed to sit on the throne of "Top 10". In the same year, she has also won the 12 months Black Gold Diamante Award, and becomes the most watched person of the Annual Presentation Award event!
Crown Managers Lee Ee Meng, Ong Sze Peng
In the beginning, Sze Peng is only doing Seiketsu business to help out in the family expenses, so that she has the ability to buy things that are needed at home, but as she managed it seriously, Seiketsu business allows her income to keep multiplying, and now, she has bought a car, and is even planning to buy a house. Once a goal is set, put in a lot of effort, then everything that is good will surely happen, and just like that she easily got the 2nd place in "Top 10".
Diamond Crown Managers Loo Ching Wan, Tan Ah Luan
They are the master of creating miracles! In the preceding year, they managed to break the record within a short 2 weeks, and they did it again last year, anything that seems impossible to others, they did it. Ah Luan looks just like her name, gentle and noble, but internally she is not inferior to men, with the full support she gets from Ching Wan, the couple is a regular in the "Top 10", and they managed to get 3rd place in last year's "Top 10".
Diamond Crown Manager Au Cheng Yue
If your will is strong enough, you can change the impossibilities into possibilities. Cheng Yue perfectly embodies this statement! She has no certificates from higher education, learning ability is just ok, but she has a desire to succeed that surpasses anyone, once the goal is targeted, she uses 3 times the force than others and charge forward, because she believes that hard work can make up for shortcomings. Entering "Top 10" is a goal she sets for herself every year, and she did it once again, 4th place of "Top 10".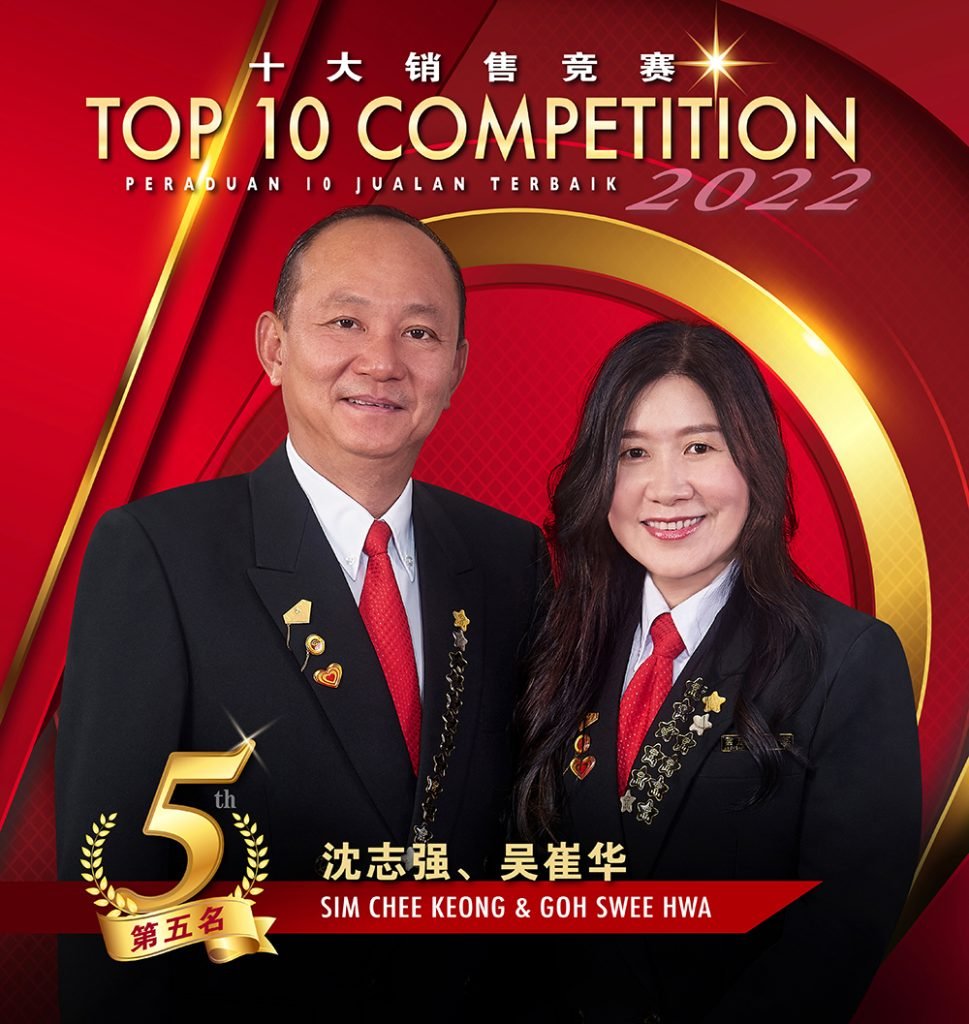 Diamond Crown Managers Sim Chee Keong, Goh Swee Hwa
Swee Hwa is someone who is family and career driven, that is why she loves the Seiketsu's Victory hand sign, which means the importance of both career and family, and the importance of wealth and health. Swee Hwa is not only good at managing both, her achievements in both are exceptional. Hence, with the support she got from her family, it's like having another pair of wings, and managed to swoop up 5th place in the "Top 10".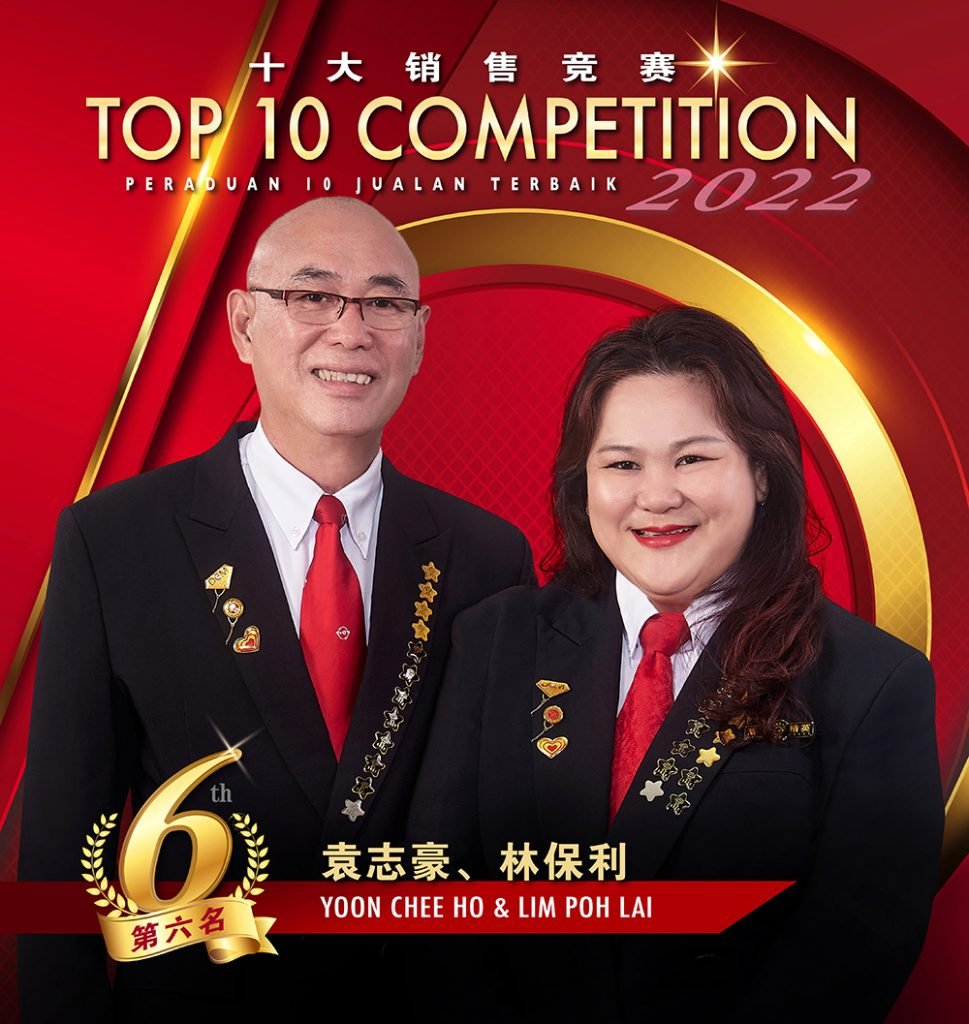 Diamond Crown Managers Yoon Chee Ho, Lim Poh Lai
After managing a traditional cake business for many years, but ended up having no food on the plate if they don't work. In the beginning, Chee Ho encouraged Poh Lai to tap a new water source (source of income), in the end Chee Ho himself has also joined his wife in doing Seiketsu's business full time. There's a chinese saying when husband and wife works together, their force is able to break or cut gold. They have entered the "Top 10" for a few consecutive years, and managed to earned 6th place last year.
Diamond Crown Managers Kheu Chow Thon, Low Geok Cheng
If you say that direct selling requires good eloquence, they don't; if you say that direct selling requires you to know a lot of people, they don't too. But, they have made up their shortcomings with hard work. Their downlines are all over Malaysia, the couple always travel up north, down south, and fly between east and west Malaysia, yet they are still very energetic, full of power, and this time they easily earned 7th place in the "Top 10".
Diamond Crown Managers Pang Hai Tien, Lim Soo Fang
They believe that success is for those who are ready, hence they have cut off any room to back out since a long time ago, and went all out and full force, incredible records are shared again and again, standing upon the great stage, earning everyone's respect. As the leader of their group (超强战队 Chao Qiang Zhan Dui), they have led their team to be the strongest group of Seiketsu's southern Malaysia region. Congratulations to them for earning 8th place in the "Top 10".
Diamond Crown Managers Ong Kar Siong, Cheah Shwu Hooi
Cheah Shwu Hooi is a filial daughter, in order to help in her father's traditional business, she only has very little time to manage her Seiketsu business, but as her desire to succeed is really strong, that wasn't a matter to her at all. She never wastes time, after work and during the holidays is her best time to manage her business in Seiketsu, because of all the hard work and effort she put in, she has once again managed to enter the "Top 10", and earned 9th place.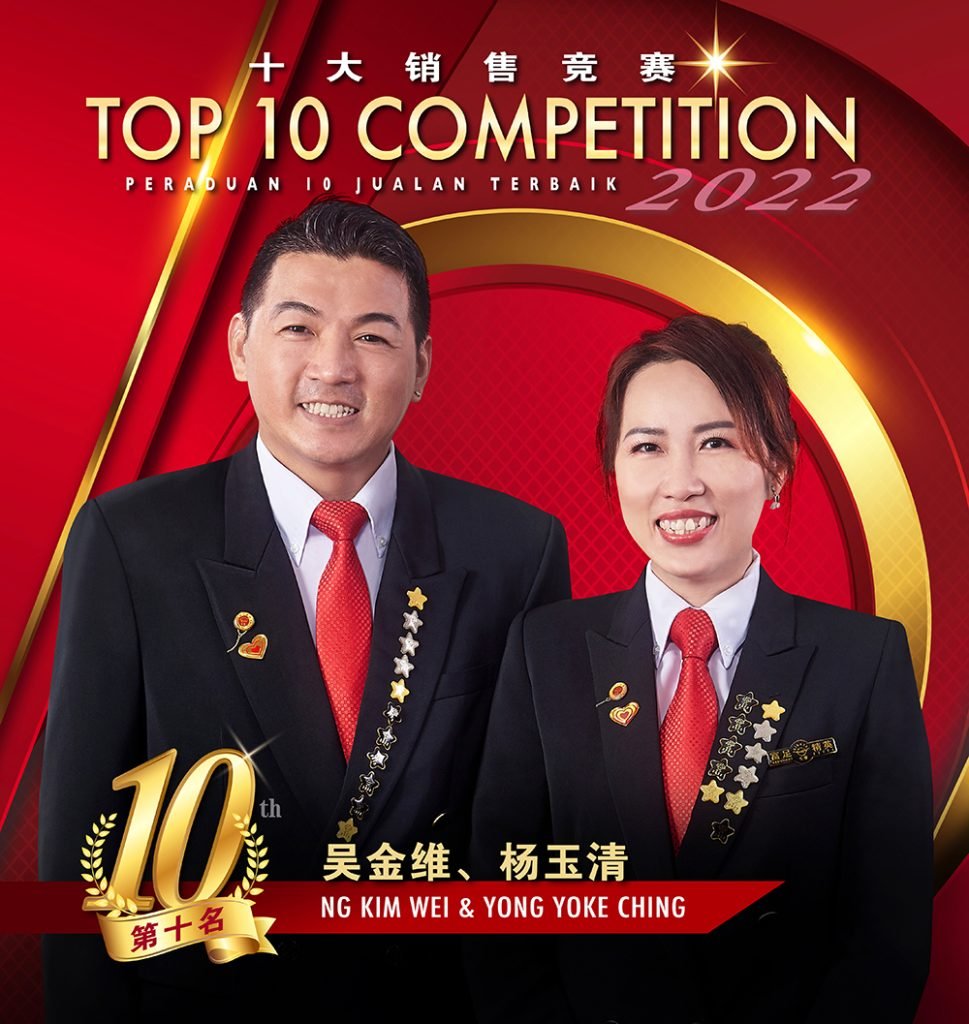 Crown Managers Ng Kim Wei, Yong Yoke Ching
Originally an introverted person, and doesn't know the meaning of "success", it's because of Seiketsu that she had a makeover, the Yong Yoke Ching now has a dream, has a goal, and at the same time has an unstoppable force of action. After setting her goal to be in the "Top 10", she marched towards this goal without hesitation, and stuck to it, and managed to keep "Top 10 - 10th Place" into her pocket.